The outline design for the casket was swiftly achieved and well received as it purveyed a solidity and peaceful weight that seemed appropriate. The outline dimensions were to relate to the golden section. Following this, we spent a great deal of time discussing details and inclusions in the casket.
The client chose from my selection of wood samples, yew for the casket with a walnut lid, and holly tray, all for their history and meaningful mythology, as well as looking fantastic together.
The jointing of the carcass was an important element, and the client requested a joint that was skilfully crafted. For this I chose the secret mitred dovetail as possibly the epitome of good craftsmanship. Though here, I was to take it to another level, as the dovetails needed to be graduated in size from top to bottom, with the curved edge of the sides. The irony of the joint is that all the work is unseen, hidden inside the joint once it is assembled.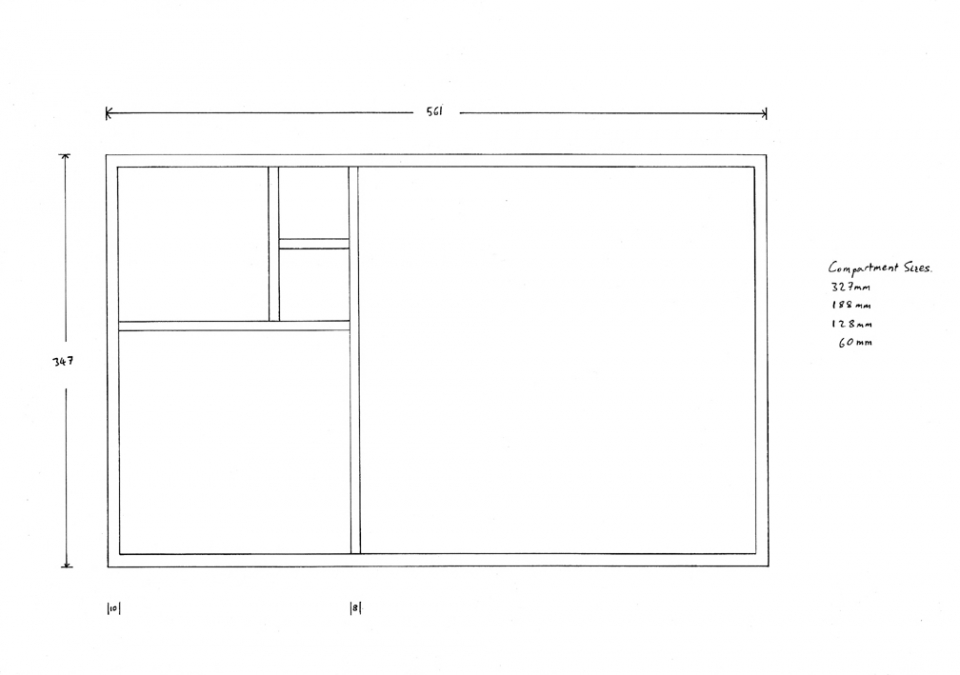 Inside the casket was to be a tray that would be designed around the Fibonacci series and again the golden section. The tray compartments increased in size according to the Fibonacci series, and the perimeter of the tray was inlaid with 2mm gold wire. The sides were curved to match the casket itself, and were through dovetailed.
In the lid, was a separate hinged panel. The hinges were specially designed and made to allow the panel to lift up with the lid, but drop down on its own to reveal another compartment. These hinges were designed so that they would be unseen from the front and were beautifully made by Dave Tigwell in St. Just. The panel itself had a hand carved epitaph. This panel was held with some sprung laths made from holm oak (Quercus Ilex) and cherry pegs, that neatly latch the panel in place with a delightful action.
I had proposed an elliptical shape on the initial drawings as a means of opening, though the client saw this as a decoration. For this he chose a stone of lapis lazuli, which was set in gold by Jack Trowbridge of Newmill.
The casket was delivered and is now filled with memories; a fitting tribute to a special lady.